Die Casting Machine | Die Casting Machines Manufacturers/Suppliers in India | Die Casting Machines in India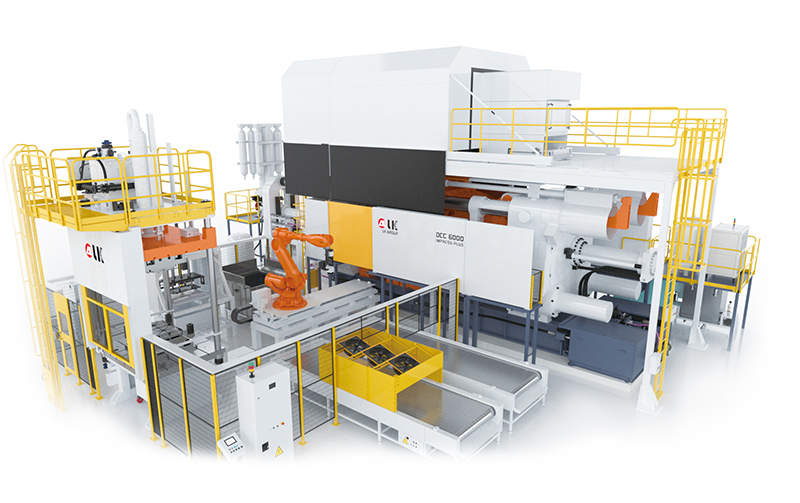 Connect With Us
For more information. Please complete this form.
Die Casting Machine
LK Machinery India Pvt. Ltd. is India's leading manufacturer of die casting machines. We offer world-class customer service and support to all our customers.
Our die casting machine manufacturers and suppliers have been in this business since 1979 and are committed to providing high-quality products and services that meet our customers' needs.
We provide a range of die casting Machines in India that can be used for numerous applications across the globe. Our team of experts can help you find the right machine for your needs.
Types of Die Casting Machines in India
LK Machinery India Pvt. Ltd. provides various types of Die Casting Machines:
Automatic Die casting Machine
Semi-automatic Die Casting Machine
ZINC Die Casting Machine (Classic Series - III)
Aluminum Die Casting Machines ( Impress series III)
Aluminum pressure Die Casting Machine
High Pressure Die Casting Machine
Why Choose our – Die Casting Machines from L K Machinery India Pvt. Ltd.?
Die casting machine manufacturers in India offer a wide range of services, from die casting machine parts and products to custom-made components.
Our facilities are equipped with state-of-the-art machinery that allows us to provide top-notch service in a timely manner.
We, as die casting machine suppliers, offer certified-quality products that are perfectly designed with features that meet the needs of our customers.
Our Die Casting Machine is durable, easy to use, and lasts for a long time.
Others:
VMC Machine
CNC Machine
Plastic Injection Molding Machine
HPDC Machine
In a die-casting machine, the operator will only need to load the material into the die and then start up the machine. In semi-automatic die casting machines in India, operators will have to feed in materials manually or with an automated system.
Features - Die Casting Machines from India:
Die-casting Machine India has been used for various purposes such as die casting, forging and stamping.
This Machine has features such as:
High precision
High speed
Flexible design
Easy maintenance,
High force, which makes it popular among industries.
Benefits : Die Casting Machines Manufacturers and Suppliers in India:
The benefits of using these die casting machines in India are that they save time, effort, and money for the company. It also provides high-quality products with almost no scrap material.
It produces high-quality products at a low cost while decreasing production time. It also helps create more complex shapes with less effort than other methods like casting or forging.

1.Energy Saving System
an average of 50% energy consumption by equipping with a servo motor.
2.Safety and Aesthetics
Endodamping units with salt guards and safety doors ensure safety and enhance aesthetics.
3.Platen Surface Hardening Technology (Optional)
Flatten surface is hard to prevenhornis
4.Reliability
State of the art hat men fold with independent relay for quick pressure and body manila.
5.Quick Die Change System (Optional)
Reduces manpower and machine ide time during mo. change.
6.Convenience
Standard front and working platform for main Nano theatrically designed piping and tubing for better working experience.
7.Intuitive Control
Intelligent control unit makes operation busier and more COT.
How do you choose a quality control tool for Die Casting Machine Manufacturers?
Precise Machining:
The group has introduced several large-scale, precise machining centres from places such as Europe and Japan that are capable of machining large machines. To provide reliability to the damping unit, machining the platens only takes place once.
The main components, such as the three platens and the toggle, are inspected using large CMMs for high precision and accuracy on the core parts.
Advantages of Die Casting Machines: Research and Development Team:
Platen is designed with finite element analysis and is capable of mega-scale applications; it has high rigidity and strength and can lengthen machine lifespan.
Top Quality of Die Casting Machines in India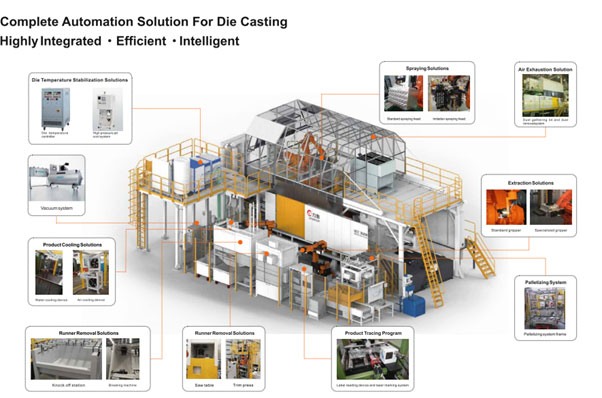 Smart Control Unit for Die Casting Machines Manufacturers in India
High Efficiency, Passing Rate, Stability Low Production Cost, Machine down Time
1. Smart injection
 Smart Injection enables real-time precise control of important injection parameters in the production of high quality and high-requirement cast parts.
2. Curves on Parameters
Several injection curves can be displayed on the HMI, including plunger position, injection speed, casting pressure, outlet pressure, inlet pressure, etc., which helps customers analyse product quality.
3. Quick Die Change System
It shortens die changing and machine down time, thus reducing labour and increasing production efficiency.
4. Statistical process control
Enables casing management in the quality control of casted products with real-time monitoring of the actual casting process parameters, a reliable database for process parameters, and easy access. LK Machinery India Pvt. Ltd. An intelligent system can diagnose the components if any overloading exists, thereby avoiding malfunctions and problems. enables to reduce the time spent in product inspection when coupled with the extraction robot.
5. Smart Control Unit with Flash-Free Technology
There is a braking mechanism at the end of the injection. It effectively solves the flashing and material spill problems associated with injection. Also, it can Raise the lifespan of the mould by reducing the impact, and product quality can beincreased.
6. Smart Die Height Adjustment System
equipped with technology to automatically adjust the mould height position to the correct value. thus shortening the changeover time.
Energy Saving System:
A traditional Die Casting Machines in India are idle at close to 50% of the production cycle, and their motors cannot change the speed, thus wasting a lot of energy.
IMRPESS-PLUS is equipped with a variable-speed servo motor, which operates only when needed. Furthermore, the quick response time of the servo motor shortens the dry cycle time, effectively lowering the energy consumption of the whole machine by 50% compared to traditional die casting machines in India.
The unique monitoring system from LK Machinery India Pvt. Ltd monitors the production status of Die Casting Machines in India and the peripherals using Ethernet on a real-time basis, achieving remote monitoring on the user's computer or mobile phone. It provides an alternative way for administrators and operators to check the operation status
Real-Time Monitor on Production Status
Real-Time Cycle Monitoring of Equipment Ide
Overview of the Plan and Actual
Real-Time Overview of The Production Shop Floor Analysis On Overall Equipment Effectiveness (OEE)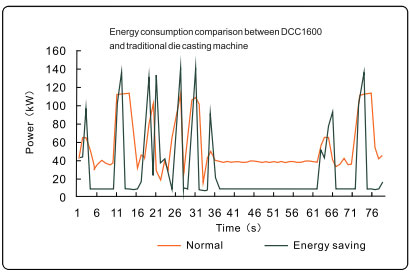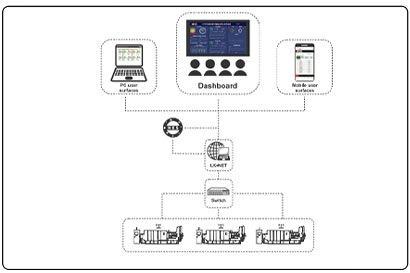 | Content | Traditional Die Casting Machine | Energy Saving Die Casting Machine | Energy Saved | Energy Saving Percentage |
| --- | --- | --- | --- | --- |
| Energy Consumed Per Cycle | 0.876 kWh | 0.354 kWh | 0.522 kWh | 59.5% |
| Energy Consumed Per Hour | 52.56 kWh | 21.24 kWh | 31.32 kWh | 59.5% |
| Energy Consumed Per Day | 1156.32 kWh | 467.28 kWh | 689.04 kW | 59.5% |